What Is 3003 Aluminum Foil?
3003 is a representative alloy of the 3000 series. Due to the addition of Mn element in the alloy, it has excellent rust resistance, weldability and corrosion resistance.
3003 aluminum foil is an ideal choice for aluminum foil for electrolytic capacitors, lunch box containers, and aluminum honeycomb core materials.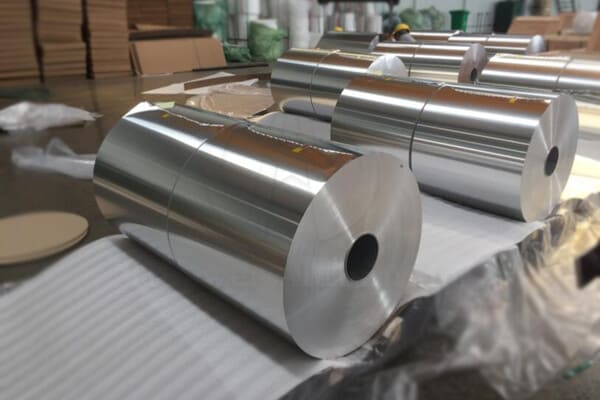 3003 aluminum alloy foil
Mechanical Properties of 3003 Aluminium Foil

| | | | |
| --- | --- | --- | --- |
| Tensile strength  σb (MPa) | Yield strengt σ0.2 (MPa) | Elongation δ16 (%) | Hardness(HB) |
| 140-170mpa | ≥85 | ≥9% | 48 |
3003 Aluminum Foil Chemistry composition

| | | | | | | | | | | |
| --- | --- | --- | --- | --- | --- | --- | --- | --- | --- | --- |
| Alloy No. | Si | Fe | Cu | Mn | Mg | Cr | Zn | Ti | Others | Al |
| 3003 | 0.6 | 0.7 | 0.05-0.20 | 1.0-1.5 | – | – | 0.10 | – | 0.20 | REMAIN |
Comparison Of 3003 and 1000 Series Alloys
Like 1000 series alloys, 3003 aluminium foil is also a non-heat-treated alloy, so cold working methods are used to improve its mechanical properties.
1. Compared with 1000 series alloys, aluminum alloy 3003 foil has higher elongation and tensile strength, especially at high temperature.
2. The strength of 3003 aluminum foil is 10% higher than that of 1 series alloy aluminum foil.
3. At the same time, the plasticity and welding performance of 3003 aluminum foil are also better
3003 aluminum foil manufacturers
3003 Aluminum Foil Supplier
As a large-scale 3003 aluminium foil manufacturer, Huawei Aluminum has introduced a world-class aluminum foil rolling mill to mass-produce 3003 aluminum foil products such as  3003-O , and 3003-H24.
As a professional manufacturer of 3003 aluminium foil, we have rich experience in manufacturing for a variety of industrial applications.
Advantages Of 3003 Aluminum Foil Factory
We have reliable quality, reasonable price and prompt delivery.
Common specifications are in stock, special sizes can be customized according to customer requirements
It has the advantages of food grade, clean degreasing, less pinholes, good plate shape, no deformation after cutting, and easy peeling.
The 3003 aluminum foil we produce is exported to many countries and regions in the world, and we have accumulated rich experience in shipping
For a variety of industrial applications, provide personal customization services
3003 aluminum foil factory
3003 Aluminum Foil Exporting Countries And Regions
Our 3003 Aluminium foil products have been exported to Australia, Morocco, Syria, Kuwait, Turkey, Saudi Arabia, UAE, Iraq, Jordan, Germany, Poland, Spain, Brazil, etc.
We sincerely welcome you to visit our factory.
The Characteristics Of 3003 Aluminium Foil
1. Excellent corrosion resistance.
The oxide film easily formed on the surface of 3003 aluminium foil can resist the corrosion of most acids and organics. And using corrosion inhibitor, 3003 aluminum foil can also resist weak alkali corrosion.
2. High plasticity.
In the annealed state, 3003 aluminium foil has high plasticity. The semi-cold hardening plasticity is better, and the cold work plasticity is the lowest.
3. Good ductility.
Compared with series 1 and 8011 aluminum foil, 3003 aluminum foil has better processing performance and higher elongation, and has strong comprehensive performance.
Aluminum Alloy 3003 Aluminium Foil Application
Electrolytic Capacitor Foil
3003-H18 aluminum foil, 3003-O aluminum foil and 3003-H24 aluminum foil have excellent corrosion resistance and rust resistance, which can meet the performance requirements of various electrolytic capacitor positive electrode materials,
Our products are widely accepted by the international electrolytic capacitor foil market.
aluminum container foil 3003 h24 factory
Aluminum Honeycomb Core
The 3003-H18 aluminum foil is used as the base material of the honeycomb panel, and it is processed into dense I-beam in the later stage.
The dispersed honeycomb panel is subjected to pressure in all directions, so that the honeycomb panel is evenly stressed.
Fuilding Products
In building products, the alloy is used in roofing, siding, acoustic ceilings and corrugated panels.
Household Appliances And Automotive Industry
Alloy 3003 can be used in metalworking equipment such as tanks, piping, jacketing, HVAC, and aluminum plumbing.
Some typical applications include heat exchangers, air conditioner evaporators, motor vehicle radiators and refrigerator liners
Common Container Foils In The Home
3003 container foil is widely used in lunch boxes, heating appliances, barbecue plates, aluminium foil bowls, cake trays, food packaging boxes, etc. in our daily life.
The results show that after proper annealing treatment, the yield of 3003-h24 aluminum foil lunch box container can reach 95%.
Food Industry
Packaging aluminum foil is widely used in food packaging
Tape Foil
Pharmaceutical Packaging Foil
3003 Aluminum Alloy Products

Products
Type
Temper
Thickness(mm)
Width (mm)
Length(mm)
3003 Household Foil
Painted,
H111/H12/H14/H16/H18/
H22/H24/H26/H28
0.01-0.2
300-1100
coil
3003 Container Foil
Bare, Mill Finish
H22  H24
0.01-0.2
200-1100
coil
3003 Packaging Foil
Tread plate
O H22  H24
0.018-0.2
100-1600
coil
3003 Electronic Foil
H18
0.02-0.055
100-1600
coil
What Are The Advantages Of 3003 Container Foil
Widely used, it can be used for heating and freezing food, and it also has an obvious effect on food preservation, because it has a strong isolation performance, and air and light cannot pass through.
Non-toxic, tasteless and non-polluting aluminum-plastic composite cans suitable for frozen food
Features of recyclability: In today's society paying more and more attention to environmental protection, it is believed that 3003 container foil will impact relatively polluted plastic containers, and the future has broad prospects.
3003 Aluminum Foil Production Process
The specific production process of 3003 aluminium foil is: casting – soaking – hot rolling – pre-annealing – cold rolling – intermediate annealing – cold rolling – foil rolling – slitting – performance testing – packaging
3003 aluminum foil production process
3003 Aluminium Foil Packaging Details
Our products are packaged and labeled according to regulations and customer requirements, great care is taken to avoid any damage that may occur during storage or transportation.
1. Standard export packaging, covered with plastic film or kraft paper, in wooden boxes or wooden pallets.
2. Clear labels are attached to the outside of the package for easy identification of product and quality information.
3003 Aluminum Foil VS 8011 Aluminum Foil
8011 Aluminum Foil
8011 aluminum foil belongs to 8xxx alloy, and its performance is better than pure aluminum foil. Common tempers are H18, H16, H22, H24, O.
Mainly used for food and medicine packaging, such as milk cap material, sealing foil, table packaging, etc.
3003 Aluminum Foil
3003 aluminum foil belongs to the 3000 series aluminum-manganese alloy.
Compared with series 1 and 8011 aluminum foil, 3003 aluminium foil has better processability and higher elongation, has excellent anti-rust performance, and is widely used in the field of electronics.